Out of the Cold is a coordinated approach to providing a hot meal and sanctuary to community members who experience poverty and homelessness over the harshest winter months of the year.  In partnership with the local faith community, Start Me Up Niagara coordinates the Out of The Cold program in St. Catharines and Niagara Falls.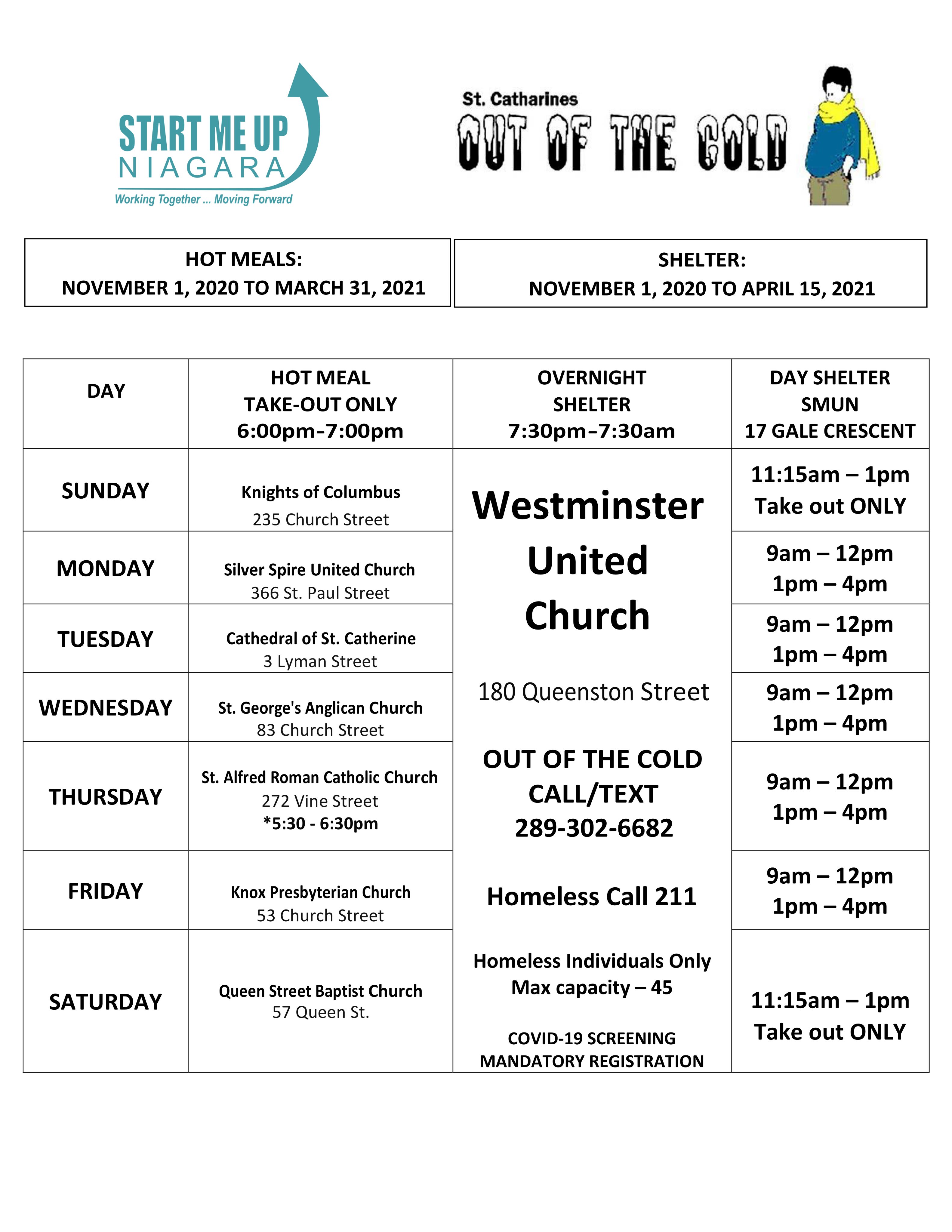 The Beginnings of Out of the Cold
Out of the Cold is an across-Canada grassroots, faith-based community response to homelessness during the cold-weather season. Founded in Toronto by Sister Susan Moran in 1987, it welcomes the 'Stranger' by providing food and shelter to "all who come."
In 1996, it opened in St. Catharines when a group of parishioners at the Queen Street Baptist Church started a 6-week pilot project on Saturday nights. This soon spread to six other church locations. It was operated by volunteers from churches and community groups who worked together to welcome the Stranger providing a hot meal and safe overnight bed. Funded entirely by donations, it relied on the goodwill of the community that never let it down.
As the years passed, the numbers and complexity of issues the guests presented increased.  This required changes to the way the program operated. Churches took on responsibility for meals, that are still prepared by volunteers, and rely on donations to cover costs. Seven nights, seven churches, many volunteers all working to feed and welcome the 'Stranger'.
Overnights became the responsibility of Start Me Up Niagara. They are provided at one location, Westminster United Church. Doors open every night from November 1 to April 15. 7:30 p.m. – 7:30 a.m. with 45 beds available in St. Catharines. Now, staff deliver the program using the same Out of the Cold-philosophy but also equipped with skills to meet needs. Overnights are funded by donations, Start Me Up and the Niagara Region. The 'Stranger' is always welcome.
Start Me Up also co-ordinates the Out of the Cold program in Niagara Falls at St. Andrews United Church. 30 beds are open for guests every night from November 1- April 15. Funding from the Region of Niagara plus donations make this possible.
COVID-19 has impacted everyone. In order to remain open strict health and safety protocols are in place - screening, handwashing, take-out suppers, mandatory masks and social distancing. Now guests, volunteers and staff are all masked 'Strangers'.