Start Me Up Niagara's Work Action Centre offers a wide range of employment services and support to help employers find the best candidates for their organizations. 
Why Work With Us
Looking for qualified, reliable workers? We found your next Employee of the month!
Let the Work Action Centre connect you with an employee who is skilled, trained, and suited for the position you need to fill.
Our team assists job seekers with barriers to secure and retain employment. One key service we offer is by providing ongoing support, we ensure each job placement is a continued success, tailored to meet individual needs and employment goals.
Save time. Save money. Build relationships. 
Our job seekers are multi-talented, skilled and resourceful. They are eager to invest in their community and become more involved through steady work.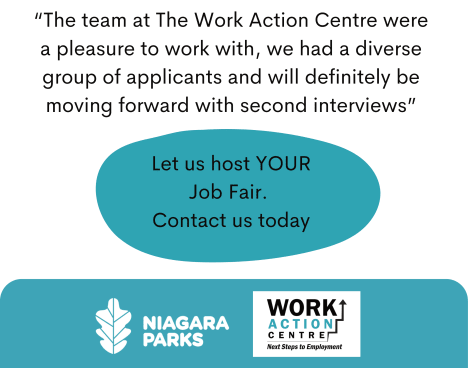 Let Us Host Your Next Job Fair
Interested in running a job fair but need a helping hand?
The Work Action Centre will partner with you to promote, run and support the event from beginning to end.
We will handle everything from registration to pre-screening to find you the best possible hires.